I'm linking up with the Christmas Cheer party!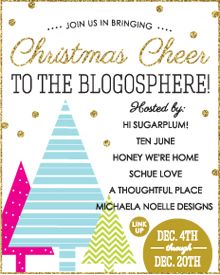 Here's my craft- a Christmas Card Scrapbook!
I found a scrapbook at Target for $15 and some cheery scrapbook paper at Michael's for .50 a piece, and now I have a keepsake that we'll hopefully have for years to come!
And this year's card!
It says: "Snuggle up to the ones you love this holiday season!"
In other news, it's been raining in SoCal for the past week, so I bought Maisy some rain gear. Partially to keep her dry, but mostly for my amusement. Seriously, the girl is wearing rain boots. I die.