If y'all are anything like me, you are already listening to Christmas music (Michael Buble's new one is amazing!) and are itching to get out the Christmas tree and stockings (it's a daily struggle not to).
With all of this Christmas excitement in the air,
my blog friend turned in-real-life friend
,
Megan
, and I decided to put together a little Ornament Swap to spread the Christmas cheer.
Here's how it works:
1) Sign up will run today (11/9) through Wednesday, November 16th.
To sign up, please leave a comment on this post with your:
-Name
-Email address
-Blog URL
2) On Monday, November 21st, we will announce partners and y'all can exchange addresses.
3) Purchase an ornament for your partner (spending limit is $15).
4) Ship your ornament by December 5th.
5) We will have a link-up on both of our blogs on December 14th so we can show off our new ornaments!
And if you want to spread the word, here's the button!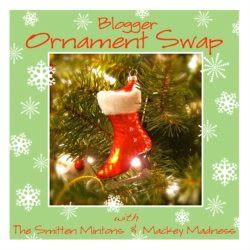 Merry Christmas, y'all!